The Age of Orion
The Age of Orion is the first book devoted solely to the development and operational use of the illustrious USN maritime patrol and anti-submarine hunting aircraft the Lockheed P-3 Orion.
David Reade details for the first time the complete history and walks you through all the different models, versions and variants. The book authoritatively establishes the Orion's different configurations, roles and missions it performs, as well as describes its endless array of capabilities currently and into the future. Besides chronicling all of its international operators, and their future upgrade programs, The Age of Orion contains comprehensive and informative appendices, charts, graphs, and impressive illustrated Bureau Number Aircraft Location listing of every P-3 Orion in the world. This list is packed with additional historical data and photos of particular P-3 Orions. Over 280 color photographs illustrate all of the various U.S. Navy and foreign markings during the aircraft's thirty-plus year history.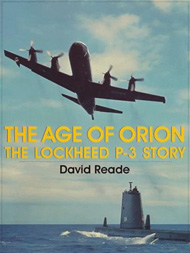 Articles
Please note- These articles are high quality PDFs, and as such are considerably large in file size. For those on slower internet connections, please allow extra time for the files to download.
Current
Archival